Dear Horsey Friends,


---
A Big Thank You
First, I have to start off by saying a huge thank you to those of you that responded to my survey questions. I truly appreciate it!

It looks like most of you want monthly communication (but with weekly being a close second) so I am going to try monthly emails for awhile and see how that goes.

Also, if you answered the questions and didn't get your free 15 min phone consult, please get in touch with me so we can get those finished up!
---
What's New
This past month I finally got a project done for you that I'd had for quite some time. For the younger crowd, or those with more artistic talents, there are now printable horse coloring pages at Lovehorsebackriding.com. Check out this link, and download and print! I hope you enjoy them. And do let me know if there are any other types of horse coloring pages that you'd like to see. I may be able to add more if there is interest in the future. And, if you color one, please share it on our Facebook Page so that we can see your creativity!

Although this is not a new page, many of you said on my survey that one of the things you frequently buy for your horse is treats. If you haven't already, have you considered making your own? There are step by step instructions along with a printable recipe for you here.
---
Tips
Does My Horse Need a Blanket?
This is a hotly debated topic throughout the horse industry. Nature does provide horses adequate protection in the form of a two layer winter coat for most situations. But, if there is an early storm that leaves your horse wet in below freezing temperatures, he may need additional protection.

If your horse is clipped, it makes it the answer to this question an easy "yes." Horses that have lost the natural protection that their winter coat provides would need additional protection. If not though, it can really depend on his living situation and individual characteristics.

For instance, it is recommended that horses that are kept on pasture 24/7 that they have access to a three sided shelter. If your horse doesn't have this minimum protection you may want to consider blanketing him if temperatures are frequently below freezing and wet. Some breeds or older horses may also have a harder time staying warm. In these situations, providing more hay and/or blanketing can help keep your horse comfortable.
What Kind of Blanket Does My Horse Need?
Blankets come in a few different categories; Stable, Turnout, and Sheets. Sheets are not really an option for winter horse keeping, but are more for keeping flies off in the summer or for reducing dirt levels in the coat.

Stable blankets are not meant for turnout- They are not waterproof and generally have a lower fill weight. This type of blanket would be for use when your horse is inside his stall or barn, out of the elements.

Turnout Blankets - These blankets are designed to keep the elements at bay and also allow freedom of movement for horses turned out. Usually they are made from ballistic nylon; a ripstop type material that is either waterproofed or contains a waterproof membrane. The higher the denier, generally the less likely it will be to rip.

Turnout blankets also come with different "fill" weights. From "no fill" which is a sheet to "heavyweight" depending on your particular horse's needs, the usage of the blanket, and the climate.

My horse is a master of horse blanket destruction. I'd gone through blanket over blanket trying more "economy" models. I soon found out that was a huge mistake. I ended up buying a Rambo, and we had much more success with it than the prior brands. If you want to learn more about them, feel free to click the picture below.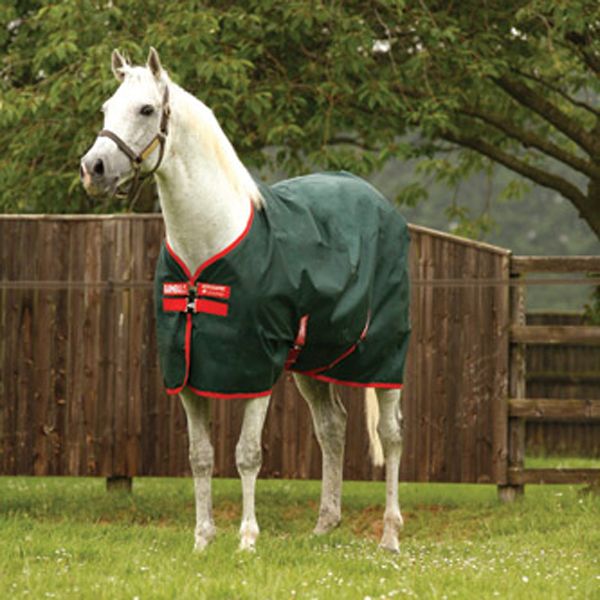 Horseware Rambo Original Turnout Blanket 3...
Horseware Rambo Original Turnout Blanket 370g [More]
Sale: $249.99
The Power of Focus
Did you know that your horse can feel your intentions? That is why it is so important to have focus and a plan when riding and training.

-If you lack focus you may find your horse "taking over" your riding session.

Try these focus enhancing steps;

-Before you head out to your horse, figure out in your mind what it is you want to accomplish that day with your horse.

-Visualize the outcome of your session. Whether that is a relaxed trail ride or teaching your horse his lead changes, set your intention for the session.

-Try journaling your sessions so you can remember how far you've come and where you want to go next
---
Happy Halloween!
Do you and your horse dress up for Halloween? What a great way to share a fun holiday together.

To stay safe, make sure your horse is comfortable with his costume before you mount up! You definitely don't want any "tricks" of the equine nature if he gets "spooked" for real!

And if you take your horse trick or treating, be sure to use reflective tack/boots and visibility gear for yourself, as well as wearing your helmet. That way you can protect yourself and people will be able to see you after dark.

I'd love for you to share your Halloween pictures either by replying to this email and attaching pictures or share them on our Facebook wall!

If there are enough submissions, I can create a page to feature our readers' unique equine costumes on Lovehorsebackriding.com. If you share, they may be shared on the Facebook/Twitter/Pinterest Pages or even in next month's newsletter!
Coaching Available
Do you need help mapping out your horse journey, whether it is taking the plunge to buy your first horse, direction on making horses part of your career plans, or horse behavior advice? I am now offering my coaching services. For $49/hr you get phone coaching one on one with me.

Please contact me if you are interested! I am excited to serve you.

And in the meanwhile, visit Lovehorsebackriding.com directly or on social media at Facebook, Pinterest, and Twitter! Until then,

Happy Trails!

Lisa